I made this ages ago, but then kept going back and messing with it which meant it never got posted!
I'm really missing skating and my beautiful league right now. This whole month I've had to skip training in order to work on my new comic, as I really want to have it ready for Thought Bubble in September. I love all my hobbies so much, but sometimes I just can't squeeze them all in. Comic work is going quite well though, despite a rocky start.
Thanks for visiting!
This is definitely a contender for the my most favourite piece to create ever! It was commissioned as gift for the subject, Kitty. I was asked if I could draw her as a mermaid, but also told that she wants to be a doctor, and asked if it would be possible to combine those things. Of course it would! I loved the whimsy of the mermaid and underwater scene, mixed with the aspirations of such a cool young lady.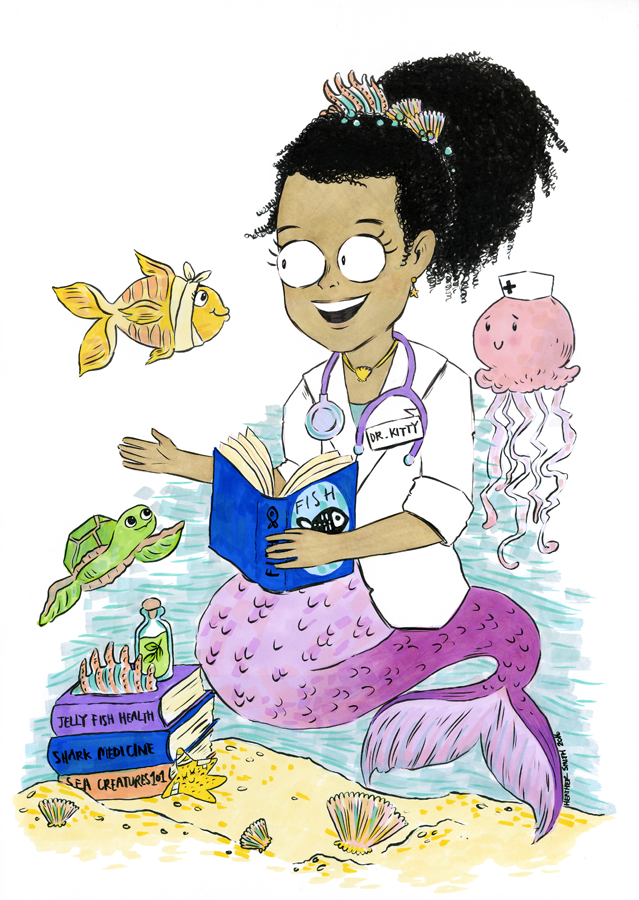 It was such a fun commission to work on - I spent lots of time looking at underwater creatures, and thinking what kind of books a mermaid doctor might be reading for her work. I loved drawing her hair and the shells and decorations.
It was challenging to work with 'traditional' art supplies. I inked and coloured by hand, which after working almost exclusively digitally on previous commissions and my own work, was a bit of a shock. There's no margin for error, so I did have a few scrunched up first attempts at this one!
As always, I'm available to work on more pieces like this, just get in touch using the contact link at the top of the page! And please leave a comment if you enjoy my posts, it's always nice to get some feedback!